 Amber House Books
Entertaining readers...empowering authors...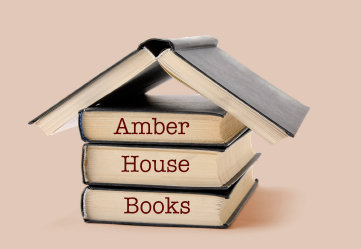 What's a wedding planner to do when love disrupts her best laid plans?

When actress and part-time schemer Letty Potts steps off the train into the charming village of Little Bidewell, she has no intention of masquerading as the most sought after wedding planner in all of Victorian London—Lady Agatha Whyte. Letty has vowed to go straight, but when the bride's wealthy family welcomes her with open arms, she has no choice but to assume the role of a lifetime and plan the most delightful wedding England has ever seen.

Only one man—the dark and dashing war hero, Sir Elliot March—suspects her ruse. As a man who has sworn off both love and laughter, Elliot is dismayed when Letty's unconventional way of thinking, her saucy wit, and her teasing dimples arouse far more than just his suspicions.

As the wedding day approaches and Letty's charade threatens to unravel into a tangled skein of danger and scandal, she yearns to trust her secrets to Sir Elliot—the one man who possesses the power to lock her away forever. But when he sweeps her into his arms for a forbidden kiss, she realizes her heart is already his prisoner…

"This frothy literary confection sparkles with charm. Witty and wonderful!"—Booklist

"An intelligent, sassy, sensual and utterly delightful read!"—Romantic Times

"Everything readers want in a romance and more. Connie Brockway writes the kind of romance I love."—Amanda Quick, New York Times bestselling author

"If it's smart, sexy, and impossible to put down, it's a book by Connie Brockway!"—Christina Dodd, New York Times bestselling author

"If you're looking for passion, tenderness, wit, and warmth, you need look no further. Connie Brockway is simply the best."—Teresa Medeiros, New York Times bestselling author

"Connie Brockway's work belongs on every reader's shelf!"—Romantic Times


INFO
Title: The Bridal Season
Author: Connie Brockway
Genre: Historical Romance
Release Date: April 2019 (New Edition)
E-Book ISBN: 978-1-943505-47-0
Print ISBN:
The Bridal Season
Book 1 of "The Wedding Planner" Series
by Connie Brockway
Coming in April 2019!

Kindle UK
Buy in Print